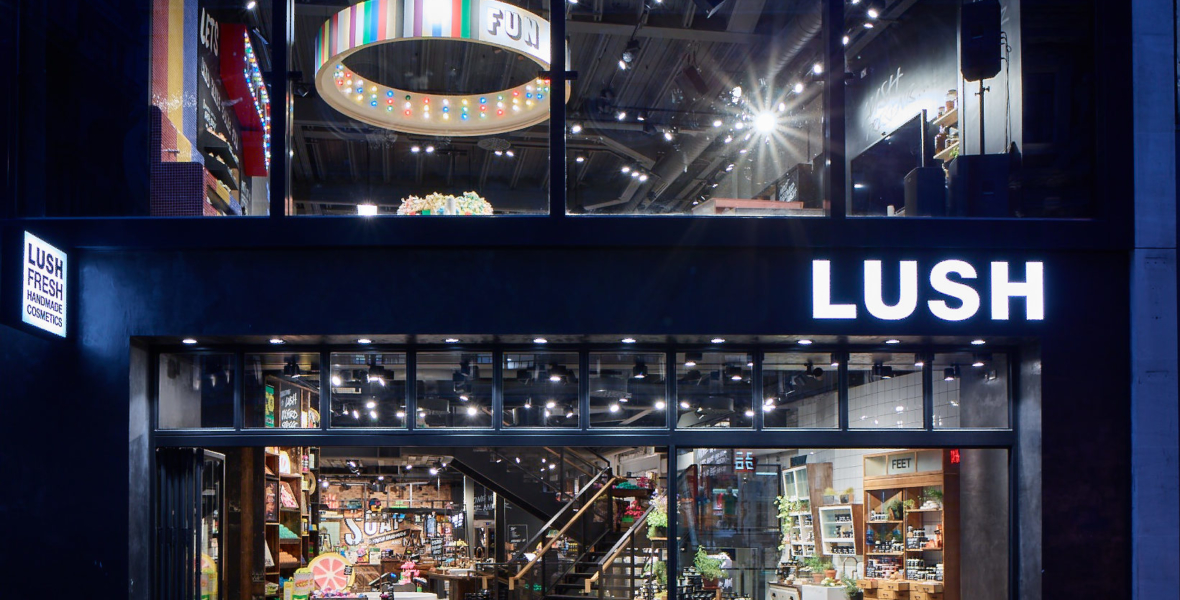 With a store portfolio spanning 49 countries spread over 900 different sites, a flagship in central London seemed a natural development for the ever-expanding Lush brand.
The 9300sq ft. site on London's Oxford Street has enabled Lush to step up to the table and compete with larger brands that have become Oxford Street stalwarts, such as Adidas and Topshop. The 3-floor emporium is 13 times larger than a standard spec Lush store, and as such required a lighting scheme that suited this quirky brands approach to the retail experience.
9300sq ft. site on London's Oxford Street
Working alongside Design Time, who produced the retro style 'recycled' interior, and Katie Tabram the Creative Director of Lush, it was important to create an exciting lighting scheme that worked in sync with the products as well as the interior design. This was achieved in part by varying the levels and textures of light throughout the store, adding to the already sensory experience of visiting a Lush store.
Dotted around the store are pendants, wall lights and inspection lights that would not look out of place on a vintage movie set. Each one has been up-cycled in the Prolight workshop, and restored to its former glory, with a brand new pendant kit and LED lamp.
Tone LED 3000K in Black
The track light fittings are mostly our Tone LED 3000K in Black, however, this is one of the only consistencies at this store. Each area has had the light fittings and levels tailored to the particular types of merchandise on offer. For the first floor, named the 'Market and Party Zone', we created a bespoke antique style suspended trough light that houses LED T8 tubes. A unique multi-coloured LED carousel feature light has been installed in the windows to draw the customer's eye in from the street outside.
LED carousel feature light
The ground floor reveals a more traditional Lush experience, with LED tape illuminating wall bays and track lights around the perimeter. We also utilised LED tape on the stairs and spent a day working with Benchmarque Designs in Dorset, lending our expertise in order to create backlit retro signage.
The store comprises of a basement level, where a spa has been installed and treatment rooms take centre stage. We chose to highlight the flexibility of recessed dimmable LED lighting here, which can be altered to suit whatever treatment is taking place. It also offers an ambience, miles away from the hustle and bustle of central London outside.
We worked closely with Jen Hilton, Lush's International Project Manager and visited the store throughout the shop-fitting process to discuss designs and changes required, as well as spending 2 days on the setup and making final adjustments.